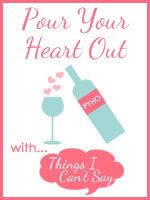 I'm beginning to wonder if a choice I made back in April was the right one. That's the nature of choices though, isn't it? Some of you might remember that I
decided to go off my antidepressants back then
. I'd been on them for a few years and felt as though enough time and healing had passed for me to take a stab at life on my own without the help of chemicals. My doctor developed a good plan for me to gradually taper off, and everything worked out well. I didn't experience any withdrawal symptoms, increased depression, or really any side effects at all.
Now, though, I'm beginning to wonder if I wasn't a little too quick to make the decision I did. As the weather changes and we move further into fall, I find my mood changing as well. And not for the good. As the days get shorter and darker, so does my patience and mood. I've been feeling down a little more regularly lately, and I find that I either want to sleep way too much or I have trouble sleeping. Today, I feel downright sad and weepy. That's not cool when I'm stuck at work. And it's frustrating, because I really have no reason to be sad. Well, let me rephrase that…
There is no
immediate
cause for my sadness. Nothing in particular has happened recently to upset me. I've long suspected that I have
SAD
, and the way I'm feeling lately confirms this self-diagnosis. Of course, this will always be a bad time of year for me. October brings the bittersweet anniversary of the trial and sentencing of Zachary, the man who ended my sister's life, and December brings an anniversary I'd rather never have to acknowledge. Yes, it's safe to say that this will always,
always
be a bad time of year. And, of course, it just happens to coincide with the season that brings colder, darker weather. It's just not a good combination.
I try not to focus on it or think about it, but the hole created where my sister used to be is just as much a part of me as
she
was when she was here. I want so badly not to forget her, and I fear that I am. That I do. Or maybe I just try to force myself too hard to try to remember her, and that compounds the feelings that I'm a bad sister for forgetting. I wish there was a way to remember her but to forget the pain. I know that's not possible. And while the pain isn't as ever-present and hard as it used to be, because it's true what "they" say about time healing, it's still there. It will always be there. And at this time of year, it seems to push harder and becomes a more forceful presence. That
sucks
. Really
HARD
!
I suppose it doesn't help that I spent last night writing a post for tomorrow that stirred up a lot of not so good memories, but it was cathartic for me, and I look forward to sharing it with you tomorrow. Then, I sometimes wonder if this being a bad time of year isn't a self-fulfilling prophecy. Am I choosing to focus on the pain, thus making this a bad time of year? Is this something I can control?
I don't know. I don't
think
so though. If I were my mother, the answer would be a resounding, "YES!" Because my mother lives for attention and seems to crave pity. I, however, do not.
It also doesn't help that, because Psychology class runs for three and a half hours every single Saturday, I don't have as much downtime as I'm used to. So, I'm not resting and recharging as much as I'm used to. I'm not entirely sure how I want to deal with this seasonal depression thing right now. I think I'm going to just try to be gentle with myself for a bit. No undue pressure to be the best I can be for everyone else, but instead focus on taking care of
me
the best I can for me. And, of course, I'll let MusicMan help out with taking care of me too.
I think that maybe I need to release this by just having a good long cry. What do you do, lovely reader, when you're feeling down?